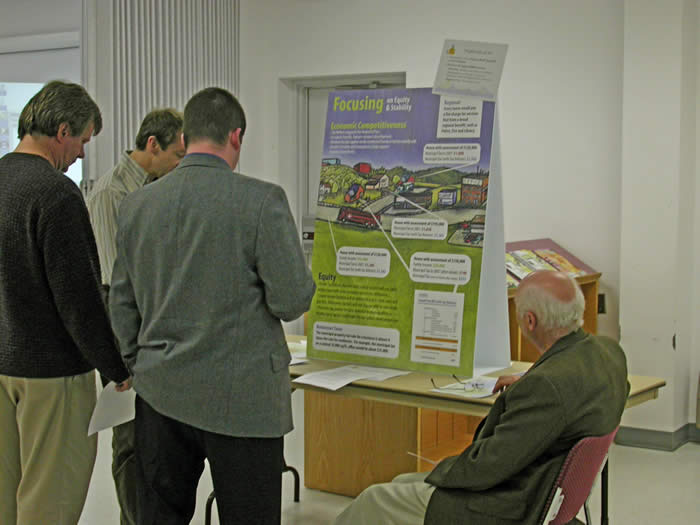 Tax Reform Open House, Sackville, May 5 2008
THANK YOU to those who attended one of our 13 Open Houses

held throughout HRM from April 30th - June 4th 2008.
We still want to hear from you! Please take a minute to fill our our online survey by June 23rd, or e-mail your thoughts to taxreform@halifax.ca
---
The HRM Municipal Tax System needs to change.
HRM's Tax Reform Committee has researched and gathered public input to propose changes to the municipal tax system. Now, the Committee wants public feedback on its ideas for a new system. The Committee will then report its findings to Regional Council.
The current municipal tax system is based on property values. the Committee believes a new municipal property tax system should be service-based and should consider the ability to pay. The new system should be based on principles that include equity, stability, simplicity, transparency and economic competitiveness.
The Tax Reform Committee proposes that:
There would be nine municipal tax rates, each levied at a flat rate per home, defined by services: hydrants, solid waste, local roads, local transit, sidewalks, community recreation facilities, regional roads, regional transit, and a broad regional tax (for police, fire, libraries, and other costs).

Multi-unit buildings (apartments and condos) would be taxed at a reduced rate.

There would be an increase in support for lower-income families.

The deed transfer tax would be eliminated.

Assessment would remain on provincial services such as mandatory education.